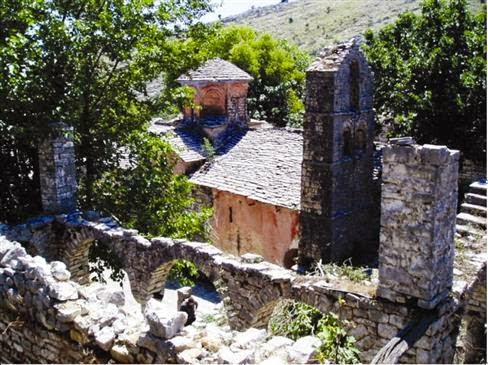 The Monastery of Douviani, also known as the Monastery of Agios Kirikos and Iulittas, is a Byzantine monastery located in the western part of the village of Douviani, in the Municipality of Dropoli, in the Argyrokastro region of Albania.
Location The monastery is located in the valley of the Drinos, in the village of Douviani, in the area of Dropoli, and is located between the cities of Argyrokastro and Delvinos in southern Albania. It is one of the many monasteries located in the Drino valley.
History The monastery is traditionally dated to the 6th century, however some notes of a former monk of the monastery show that the monastery was built in 1089. It was restored in the 1960s and upgraded to a cultural monument by the Albanian government in 1963. Today it is almost in ruins and since 3000 square meters of it save only the central building with the chapel. In the summer of 2006 the inhabitants of the village announced that the descendants of the former priest of the village, Papa Vlasis, found an icon buried in their garden. The object, described as an emblem of the monastery and dated 1819, bears the names of 6 saints (Saint Juliet, Saint Theodore the Soldier, John the Chrysostom, Saint Charalambos, Saint Eleftherios and Saint Polycarp). In order to prevent the theft of this valuable object, the villagers change its location from time to time. On June 5, 2010, the monastery was looted by unknown persons.
A wooden cross, some icons, a fabric with artistic and historical value were stolen, while the robbers also destroyed some parts of the wooden iconostasis. The same has happened in the past as well, in 1997 when some very old pictures and other valuables were stolen. Today the dome, the bell tower, the Holy Altar and other parts of the monastery are in danger of collapse. Until now, the monastery is being voluntarily taken care of by Spiros Panagiotis, a retired teacher from Douvia.